The simplest way to describe
Monica Geingos
in one word would perhaps be 'Superwoman.' Monica is a lot of things. She is a mother, a wife to the most powerful man in Namibia, the first lady of this great nation, a lawyer, an exemplary entrepreneur, and the richest woman in Namibia.
Today, we take a moment to appreciate this national gem. Her journey to success will inspire young women everywhere to get up and work on their dreams.
Early Life and Education

Monica Kalondo Geingos was born in the Diamond mining town of Oranjemund in 1977.
She attended the University of Namibia, where she obtained two legal degrees- B. Juris and LLB.
Career
Even though she is a Law graduate, Monica Geingos's career has been centred around the finance sector, where she has been successful. She spent a significant part of her early career working for the Namibia Stock Exchange (NSX) in Windhoek.
She has held a number of the most important positions in the country, including chairman of the Board of eBank Namibia and board member of Namibia Media Holdings (NMH). She currently holds the Managing Director of Namibia's Stimulus Investments Limited position.
In 2015, after her husband got sworn in as the president, Monica became the third First Lady of Namibia, a position that she currently holds.
Following her new position as the first lady, Monica Geingos resigned from about ten companies, including Bannerman Resources Namibia, Cymot Limited, and Walvis Bay Stevedoring.
Personal Life
Monica Geingos got married to
Hage Geingob
on 14th February 2015 in a simple wedding ceremony.
Many critics were quick to poke fingers at their union, given the age gap between the two- Hage is older than Monica by at least 30 years.
Apart from being a wife, Monica Geingos is also a mother of two biological children- a girl and a boy. Her marriage to Hage Geingob added three more children to her life.
Net worth

Shortly after being sworn in as the first couple of Namibia, Hage and Monica declared their wealth. At the time, their combined net worth was estimated at between 95-111 million Namibian dollars, with Monica having the lion's share of between 45-60 million.
At the moment, Monica Geingos has a net worth of around 50 million Namibian dollars and is the
richest woman in Namibia
.
Monica, who is passionate about wealth distribution, once promised that she would leave her wealth to charities when she passes on.
Accolades
She has been inducted into the Namibian Business Hall of Fame. She is also a recipient of several awards like the Namibian Business Personality of the Year, Most Innovative Entrepreneur of The Year, and World Without AIDS Awards, for her fight against HIV/AIDS.
Social Media Presence

Unlike other high-profile leaders who prefer to keep away from social media to avoid critics, Monica Geingos is quite active on social media, especially Twitter.
In a
Masters of Success interview
that she did in 2015, the first lady admitted that she manages her social media handles herself. She said that she didn't see any need to run away from social media critics because even in real life, she still has to deal with critics.
Monica Geingos is also known to be
vocal against social media trolls
. In 2021, during International Women's Day, she promoted the
'ChooseToChallenge'
campaign by sharing a video where she called out social media trolls who had
slut-shamed her
.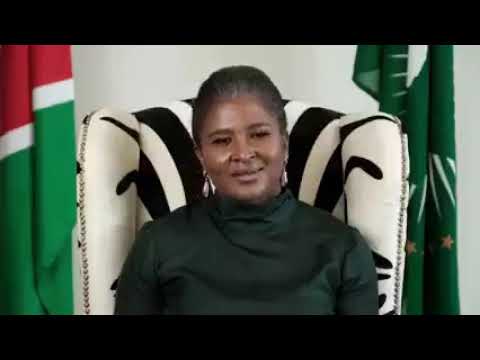 She also encouraged other women to follow her lead in speaking up against social media bullies using the hashtag #YourSilenceWillNotProtectYou.


Do you have any special messages for the FLON and were you surprised to find out that she is the richest Namibian woman? Let us know in the comments.