Boity, Lioness and Nazizi – 3 powerful emcees, 1 unforgettable hip hop track and now visuals!
As the lyrics to their song and it's title says,they are indeed here to switch the game up because they are about that life! The visuals to the African female hip hop Coke Studio song Switch It Up airs today and here is how the making of it was from Lioness' view.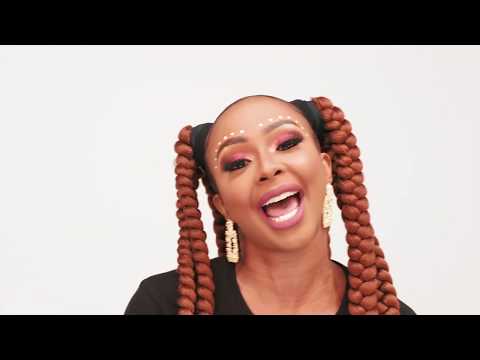 Nalebrity
(N)
: Reflecting back on your trip to Kenya, do you think such a cause is relevant and in your view how did this benefit you and your country?
Lioness(L) : I absolutely think it is and will be necessary to grow the female artist community, so that we too are able to dominate with our male counterparts. The trip definitely aided to my growth as an artist and business woman because I now see what the international market requires. And I then share my knowledge with other artists.
N: How long has it been since you and the other artists have been together? How was the reunion in South Africa for the shoot like?


L: We last parted ways in December, but stayed in contact with each other. Seeing the ladies achieve in their respective countries after Coke studio was just heart-warming. We were like sisters who had so much to tell each other.
N: Your work is also known for popping visuals that go hand in hand with your lyrics. Did you have a say on this set and what was it like, compared to your usual working style here at home?


L: I left the professionals do what they do best. I was comfortable and confident in their artistry . So if I wasn't sure of anything I don't think they would've minded.
N: How was the whole shooting experience?


L: It was a really amazing experience, but we had to wake up pretty early which sucked. We arrived at the warehouse, we had breakfast. They were so hospitable. Things went so swiftly and I thought to myself these people are so professional. They really did in depth searching of what type of women each one of us are. And I think that was smart, we were really comfortable in our clothes and our make-up. And they were so open to any changes which was so important. They treated us with so much love. At the end of the day we were a family. Because we already had the chemistry from Coke Studio it was not hard to have chemistry on set again. I really enjoyed it.
N: What was the one thing you took away from the whole video shoot that you will instil in your arts going forward?


L: One thing I thought that was important for me was the organisation of the video shoot and how shoots are done there and on an international level. They really broke down the video to the minute and the second. They have extra details so I am probably going to research more about it. I really understand now how music videos on an international level are done.
N: What were some of your best memories from set?


L: Just being there with the girls in a different setting. Seeing them on the set made me so happy especially Nazizi and she is like my older sister, I ask her about everything and she gives me so much knowledge. Boity is like the chilled sister. She is so cool and so funny, we are total geeks and dorks and we joke about the silliest things. And seeing her again was so pleasant. Another memory was that they were so appreciative of my music and my personality. For some of them it was the first time they met a Namibian so that was cool.
N: Would you recommend a fellow Namibian artist to take part in Coke Studio initiatives and why?


L: I would definitely want another Namibian to have that kind of experience especially hip hop because it is one of the genres that is mixed and influenced by other sounds now. So if there is a chance that another Namibian should go they should grab it with both hands. It really changed me as an artist. There was this weird switch and all of a sudden everything is brighter.


Main image credit: Lioness