Rapper
AKA's
fans have called on each other to support the rapper during this difficult period. Penning a lengthy letter to the rapper was the Megacy who says the rapper will not be silenced.
Read more:
Moses Tembe Speaks Out
AKA sat down
with journalist Thembekile Mtororo
to talk about his relationship with Anele Tembe. Soon after the interview, people dragged the rapper for not telling the whole truth.
Supa Mega's Megacy
did not take the insults lightly.
"Insinuations of such intelligent people being part of promo Twitter is quite impudent actually. The greatest paycheck we get on a daily though is having the greatest relationship with the man we named ourselves after," reads part of the letter.
"We will remain a group that is for Kiernan Jarryd Forbes. In the midst of the storms, we will still be there making sure that he knows that we care for his way beyond his career. He will never be silenced while we are still around.
"More hashtags will be created by us in his honour. We will continue to support anything and everything that has his name on it."
The Megacy even took aim at organisations that are looking to silence their fave .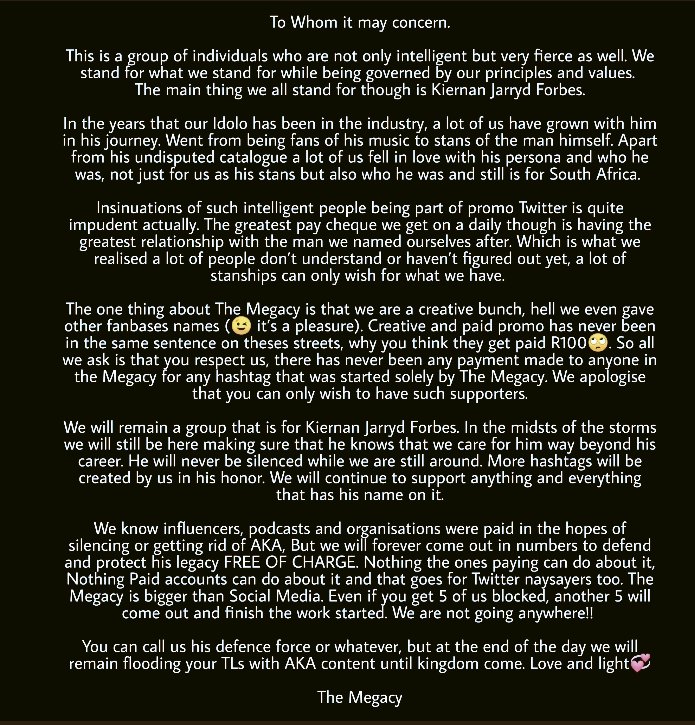 Read the
full story here.
Picture credit: Instagram