Somgaga's lethal clapbacks! Wondering why the chef, actor, reality TV star, dancer, television and radio presenter, MC and one of South Africa's favourite personalities was trending this weekend? Well he delivered the most tasteless clap backs to two journalists from two media houses when they asked about his private dealings.
When a
Sunday World
journalist approached
Somizi Motaung- Mhlongo
for comment regarding news that a
season 2 of his cooking show, Dinner At Somizi's, is halted
, he went berserk.
The television personality and all-round entertainer has had enough of the bullying he has been subjected to and delivered two clapbacks this passed weekend.
Dinner At Somizi's had a promising future and as season 2 became a huge possibility. This all came crashing down when Hastings Moeng came out publicly to declare that the show's plot was his idea. He accused Somgaga,
Legend Manqele
and Multichoice of stealing his show and has now taken legal action against them.
His clapback was so lethal, a few of the words had been censored - even he blurred them out in his IG post. "Deadline yo m***u kan**ko, g**o lika yihlo, u fu**en abortion survivor," he said. In translation, he insulted the journalist's parents and implied that he or she survived abortion.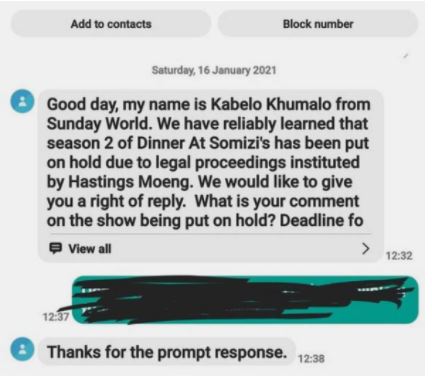 Fans woke up to another story on their alleged divorce from
City Press.
The article claims that the two are in divorce talks due to
Mohale's cheating ways.
Apparently the man he cheated with is a married friend of Somizi's.
After the article was published Somizi took to his Instagram page to drag the journalist who wrote the article and threatened to sue the paper.
Hectic!
Main image credit:
Instagram