The highly anticipated
boxing match between King Tee Dee and Tim Ekandjo
brought great entertainment but also for a good cause. Their fight was an initiative to raise funds for the shoeless Namibian child. He partnered with Project Never Walk Alone (PNWA) founder, Tim who he beat after 4 heated rounds.
The boxing match took place this past weekend, October 15, at the Windhoek Country Club resort. The aim was to raise funds for at least 70 000 impoverished children.
King tee Dee
trained very hard for the match. He won after a very tough 4 rounds but to him, obtaining the victory was easy. After the match, he said he did it for the child and that they are the ultimate winners.
"It was very easy! I only got one punch but he can tell you about my punches, I don't think he will forget about my punches,". He joked.
"But the main thing here tonight was not about me winning, but making sure we all contribute to this very great cause of putting shoes on the feet of all vulnerable school kids in the country. We did our part and now more school shoes will be bought for kids. I hope the PNWA initiative continues with this great work of helping more of our underprivileged children. Tonight, the barefooted Namibian child was the winner," he continued.
Refusing to be a sore loser, Tim said in the end the goal was achieved and he is very happy about that.
"Everything went right tonight; we had a sold-out venue and next week we will be able to buy those shoes. The only winner here is all the barefooted kids in Namibia. I would like to thank King Tee Dee and his team. This was not only about boxing but raising funds and we did a great job," said the founder.
Next to try his luck in the boxing ring is Luis Munana who wishes to step in the ring. With the help of the suggestions from his followers, he is yet to find an opponent.
Watch highlights from the match below: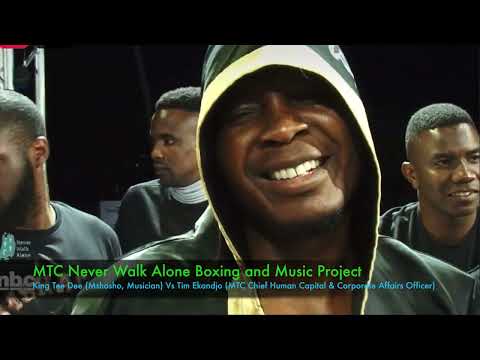 Image credit: Instagram